QuickReg™ – Next-Generation Production Registration from After, Inc.
Proprietary cloud-based technology and the latest in AI advancements simplify product registration and deliver significant ROI for manufacturers. 
(Note, you can read a more recent, two-part series about the evolution of product registration here.)

Product registration – and the process of capturing new customers' information at the time of sale – can help manufacturers in many ways:
Enables communication with their customers regarding product support, updates, and recommendations.
Activates warranties and tracks product usage.
Aids during product safety notifications and product recalls.
Enhances the relationship between the OEM and customer.
Yet, registration rates have historically remained low.  A survey on "Consumer Preferences Regarding Product Registration" in September 2015 found some interesting insights regarding registration frequency (see Figure 1).
The survey results showed that the majority of young consumers (18-29) – 62% to be exact – "seldom" or "never" registered their products.  For those that "seldom/never" registered, regardless of age, the top three reasons were: "it was inconvenient/took too much time", "I didn't see any benefit to registering", and "I was lazy or forgot".
Figure 1 – Consumer preferences regarding product registration, broken down by age group – September 2015


Source:, "Consumer Preferences Regarding Product Registration", University of Michigan Transportation Research Institute September 2015.
When consumers did decide to register, the primary reason, regardless of age, was to activate a warranty – the second being to receive recall notifications.  While older consumers (60+) showed the lowest preference to register, the overwhelming majority were in the "sometimes" to "seldom" category, registering only when the product was costly to replace.
So how will QuickReg™ shift consumers preferences toward registering their new products?  The answer – it addresses consumers' top concerns, making it simple, easy and advantageous to provide manufacturers with their information.
1."Make it convenient for me"
Mobile phone usage has skyrocketed in the last decade.  Consumers spend 3.3 hours per day on average on their mobile phones – the highest of any other digital platform (see Figure 2 below).
Figure 2 – Mobile media use has skyrocketed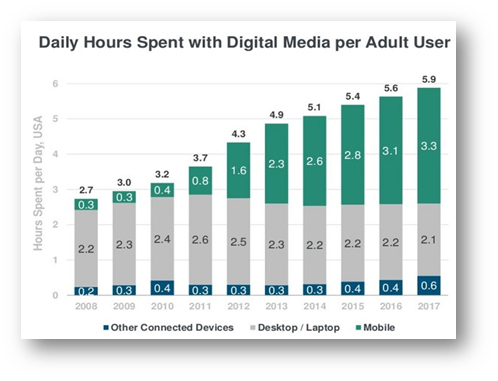 Source:  "Internet Trends 2018 Report", Mary Meeker (Kleiner Perkins), May 2018.
Mobile has also become the primary driver of Internet traffic, as wireless carriers have invested heavily in technology and bandwidth to increase connection speed and drive usage.  In parallel, cloud-based technologies have made it possible to store and access large amounts of data remotely and deliver it to mobile devices via the Internet, giving rise to all types of cloud-based data services, including mobile registration.  Mobile is now the most widely used channel for registration.
To make mobile product registration even more convenient, After, Inc. has added features such as smart image recognition.  Smart image recognition gives customers the ability to take a picture of the model number on their QuickReg™ sticker using their mobile phone, and send it via text/email for processing.  With one simple step, the customer can initiate the registration process.
2. "Let me register" right away or I will forget."

The issue with traditional paper-based registration and user-initiated website registration is that consumers forget to do it.  When customers first purchase a new product or open a new box, their engagement and excitement levels are at their peak, meaning that they are much more inclined to register.  Therefore, the goal is to have consumers complete the registration within the first 24-48 hours.
After, Inc.'s QuickReg™ tool makes it easy for the customers to register right away.  First, a sticker is attached to the product or box with the model number, and placed in a highly visible location on the product or box (see Figure 3).  The customer need only perform one step – text, email or call with the model number – to initiate the registration process.  With its cloud-based solution, the QuickReg™ database looks up the model number and appends customer and product data to a mobile registration page.  In less than one minute, a push notification is delivered back to the customer via text or email (whichever channel is preferred), with a link to view the prepopulated data.  After a quick review, the customer hits "submit" and the registration process is complete.
Figure 3:  Examples of QuickReg™ stickers in visible locations for easy registration.

Source: After Inc., February 2019.
3. "Give me something valuable in return."
In today's modern economy, consumers' attitudes toward sharing their personal information  have shifted.  The younger generations (ages 25-44) are much less concerned about data privacy. They have grown up as digital natives and are used to providing their information in exchange for something of perceived value.  A June 2018 study by Acxiom and Direct Marketing Association validated these consumer attitudes with some interesting statistics:
58% of Americans are "pragmatists" – open to sharing their personal data with businesses if the benefits are clear.
2/3 of Americans are more aware of how their data is used and collected than in the past, and 63% believe that sharing data and personal information online is part of the modern economy.
75% of Americans believe that their data is their property and they should be able to trade it if they choose for better offers/services.
84% of Americans, while open to sharing, would like to have more control over the data they give to companies and how it is stored.
And finally, an interesting finding was that over 30% of all Americans – and 50% of Americans ages 18-44 – would be interested in a service that automatically collects your data and shares it with brands for the optimal financial reward (see Figure 4 below). Now that is a shift!
Figure 4 – Nearly 50% of Americans age 18-44 would be interested in a service that collects their data and trades it with brands for financial reward.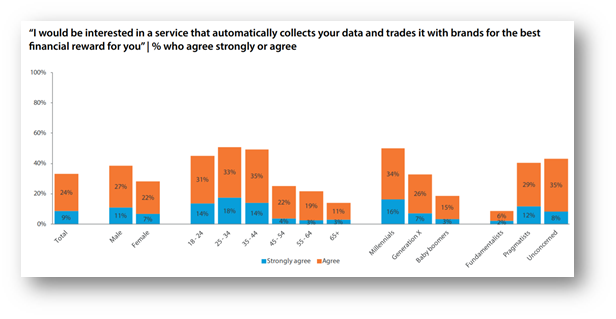 Source: "Data Privacy – What the Consumer Really Thinks", Acxiom & DMA, June 2018.
The takeaways from the data privacy study that are most relevant to product registration are:          a) consumers are much more willing today to provide their data online or via mobile text to a manufacturer in exchange for something of perceived value, and b) they want more control over how that information is used and stored.
The QuickReg™ tool was designed with these consumer preferences in mind. The platform provides immediate information back to the user including digital product manuals, safety notices, warranty terms and other critical product information.  Future QuickReg™ releases will allow for customers to provide ranking and reviews.  The tool also gives consumers full access to their personal information.  They can opt out of marketing offers and even select specific information to remove from the QuickReg™ platform.
QuickReg™ drives ROI for manufacturers.
QuickReg™ not only simplifies registration for the consumer, it also provides significant benefits for manufacturers.  As discussed at the beginning of the article, product registration is a valuable tool to improve communication with customers regarding product support, updates, safety notifications and recalls, and warranty terms and conditions.  However, QuickReg™ does so much more.
Higher registration rates – QuickReg™ dramatically improves product registration rates through its quick, easy and convenient mobile registration process, allowing manufacturers to identify more customers at the point of purchase.
More targeted marketing campaigns & incremental upsell/cross-sell revenues – QuickReg™ – in combination with After, Inc.'s world class predictive analytics – can be utilized to develop more targeted marketing offers to the right customers at the right times who have the highest likelihood to purchase those products/services.
Improved customer satisfaction & stronger brand loyalty – With all the product information they need at their fingertips, consumers on the QuickReg™ platform will have a positive customer experience from Day 1.  Ongoing communication – combined with the ability to purchase of relevant products/services throughout the product lifecycle – will help to strengthen brand loyalty.
To view our recent press release on the QuickReg launch at Warranty Chain Management conference, click here.
After, Inc. has been a leader in Warranty Analytics, Warranty Marketing and Warranty Program Management since 2005.  If you'd like to learn more about QuickReg™ please visit our Smart Registration Solutions page.  Or, to schedule a demo, send us a note at info@afterinc.com.  We look forward to hearing from you.
 Sources:
"Consumer Preferences Regarding Product Registration", Schoettle & Sivak, University of Michigan Transportation Research Institute, September 2015.
"Internet Trends 2018 – Kleiner Perkins", Mary Meeker, May 2018.
"Data Privacy – What the Consumer Really Thinks", Acxiom & Direct Marketing Association, June 2018.