Why Direct Mail is Still a Highly Effective Channel for Extended Warranty Marketing Campaigns
A Multi-Channel Approach for Extended Warranty Marketing
 "Multichannel marketing" involves the use of multiple channels, both online and offline, to communicate with prospects and customers at various stages of their customer journey.  The concept is not new.  Incorporating a multi-channel marketing strategy – which includes direct mail – has three key benefits¹:
It increases awareness. A multi-channel approach increases the chances that your prospects will see and interact with your message.  For example, if an appliance manufacturer launches an Extended Warranty marketing campaign for its new energy-saving refrigerators on email, direct mail and social media channels, it ensures that its message will a) reaches more of its prospects, and b) stay top of mind.
It meets each prospect in his/her preferred channel. As mentioned above, a multi-channel approach increases your chances of reaching your prospects – and more importantly, reaching them in the channels they prefer most.  It can take time to learn prospects' preferences– which messages resonate, which channels they prefer, which time of day works best.  However, as you get to know their preferences, your response rates and ROI will improve over time.
It ensures your message hits home. When utilizing a multi-channel marketing strategy, it is crucial that your message is simple and consistent.  By maintaining your brand consistency, you ensure that your message hits home (e.g. "You made a smart decision to purchase your new energy-saving refrigerator – now make a smart decision to protect it.").
Why Direct Mail?
In our modern world, as digital marketing garners all of the attention from marketers and the media, traditional methods like direct mail can appear outdated and irrelevant.  Naturally, you might be asking:  1) Should direct mail still be used in Extended Warranty Marketing campaigns?  And 2) Is direct mail effective in driving response rates and ROI?  The answers are – unequivocally – YES, and YES.
Here are six reasons to include direct mail – with statistics to back it up.
1.     Direct mail response rates are at their highest rates since 2015.
As illustrated in Figure 1 below, direct marketing has seen a surge in response rate in the past year.  In 2018, direct marketing response rates hit 9% (house lists), and 4.9% (prospect lists), having risen 96% and 69% respectively since 2017.
Figure 1:  Direct Mail Response Rates: 2015-2018
2.     Direct mail response rates beat every digital marketing platform.
At 9% (house list) and 5% (prospect list), direct mail response rates are 9X and 5X higher than that of email, paid search and social media – with online display at a dismal 0.3% (see Figure 2).

Source  ANA-DMA Response Rate Report – 2018.
3.   Not only are response rates higher than digital media, but target buyers are more likely to read their mail today than in years past.
The USPS reported that total mail volume has declined by 30% since 2006.  (Source: Statista)  Mailboxes are less full today, given the increasing use of digital marketing.  Therefore, prospects are more likely to see and read your mailer.  And, if it has an attention-grabbing headline, imagery and call to action, they will be likely to respond.
4.  Direct mail has a median ROI of 29%.
Direct mail is 3rd in ROI behind email and social media.
Figure 3:  ROI by Direct Marketing Channel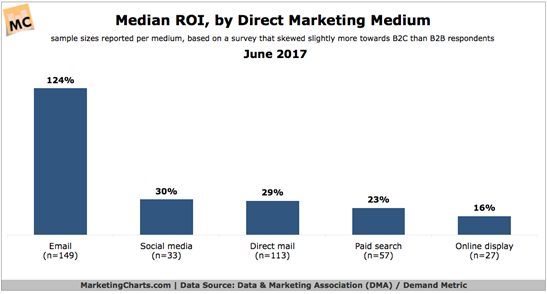 While email has – undoubtedly – the highest ROI of any method, it has become much tougher to get prospects to open let alone click on them, as email inboxes are continually flooded with promotional offers (the opposite of our 3rd point above about direct mail). The ROI on email is high because of the nearly free cost to send, so it is the best tactic to use on mass mailings to your entire target audience.  Direct mail, on the other hand, is ideal when you can segment your audience using predictive analytics, mailing only to the ones with highest likelihood to buy (something we do for all of our Warranty Marketing campaigns at After, Inc.).  When you send direct mail to a "premier" segment of high likelihood buyers, it can be an extremely effective and profitable method.
5.  Direct mail can be easily tracked.
When sending out direct mail for your Extended Warranty campaign, marketers should include a call to action that is specific to that campaign. For instance, you can set up a unique phone number for prospects to call. Or, if you want them to go to your website to make the purchase, set up a unique landing page  Even better, set up a personalized unique landing page – a "PURL" – for each individual. This may sound difficult and time-consuming, but it is not. There are direct mail automation tools that can generate the individual PURLS automatically.
6.     Direct mail is the best channel to reach ALL age groups².
Online marketing is NOT the best way to reach an older demographic.  While the majority of Americans, age 35 and under, have owned a smartphone for the past decade, older Americans (50+) have been slower to adopt. That number has increased from 53% to 67% in the past 3 years, but 1/3 of older Americans are still smartphone-free.
Figure 4:  Smartphone Ownership in the U.S.

Source: Pew Research, Global Attitude Survey, Q3 2018.
Similarly, only 67% of Americans ages 65-80 have access to the Internet, and the number declines with age.
Figure 5:  Internet Access Ages 65+ in the U.S.

And finally, when it comes to social media, only 34% of Americans age 65-80 are on social, with the lowest percentage at 17%.
Figure 6:  Social Media Use Ages 65+ in the U.S.

 Conversely, direct mail can target everyone.  No matter your age, everyone checks their mail.
Conclusion
In this article, we have shared six reasons why direct mail is not dead – in fact, it is alive and well.  When used as part of a multi-channel Extended Warranty Marketing strategy, direct mail provides a tangible, personalized alternative to digital marketing channels.  Although more expensive than email and online advertising, direct mail can be very successful at targeting "premium" customers with a high likelihood to purchase (thereby justifying the higher cost).
After, Inc. is a global leader in warranty services, offering predictive analytics, data-driven marketing, and program administration.  Since 2005, we have helped manufacturers optimize their warranty programs, driving higher revenues, profits, and customer satisfaction AFTER the point of sale. 
Click HERE to learn more about our Warranty Marketing Services.
Footnotes:
PostAnalytics,com Blog, "Where Should Direct Mail Fit Into Your Multi-Channel Marketing Strategy?", February 25, 2019.
Neil Patel Blog, "13 Reasons Why Direct Mail Isn't Dead".