Warranty Marketing & Millennials: How to Effectively Engage the Millennial Buyer
Introduction
Earlier this year, our team at After, Inc. shared the results of a research study we did on Millennials and their Attitudes towards Extended Service Contracts.  That research provided insights into Millennials' purchasing habits when it comes to Extended Service Contracts, and offered suggestions on how manufacturers can tweak their Warranty Programs to better cater to this segment of the population.
In this post, we are going to do a deeper dive on Millennials and their Buyers' Profile.  Did you know that this group now makes up 25% of the U.S. population (77 million), outnumbering Baby Boomers, and are 3X the size of Generation X with $1.3 trillion in annual buying power? (Boston Consulting Group)  They are a HUGE segment that can drive SUBSTANTIAL revenue to any organization.
So much has been written about Millennials in the past decade, their preferences and motivations, that you may feel like you have this target buyer down pat.  However, new research reveals that there are many misconceptions about this diverse segment of the population. This article should provide you with a good understanding of the key differences between Millennials and their previous generations, so you can position your Warranty products and services to better appeal to their needs.
The Millennial Buyer's Profile
Key Demographics
Age – Millennials were born in the early 1980's to the early 2000's and are currently between 18-37 years old.
Education – They are the best educated group of young adults in U.S. history with 39% of older Millennials age 25-37 having earned at least a 4-year college degree. Millennial women are 4 times as likely as their grandparents to earn a Bachelor's degree (43% vs 11%) and men are 2 times higher (36% vs 19%). Women have outpaced men since 2001. (Pew Research)
Figure 1: Millennials are highly educated.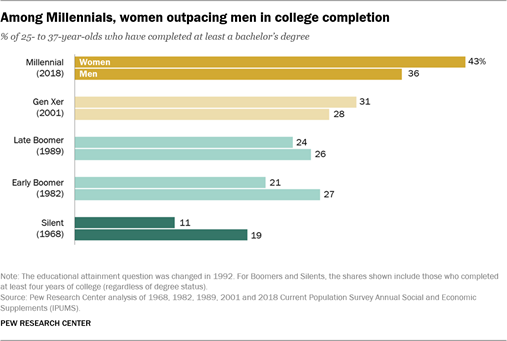 Income – Whether high school or college educated, Millennials are making less than their Generation X counterparts at the same age, but not by much. There is still a large gap between households with a college degree ($105K) and those without ($49K). (Pew Research)
Net Worth / Debt – Millennials age 20-35 have 40% less net worth ($12,500)  than Boomers did at the same age ($20,700) and 17% lower than Gen X ($15,100).  The primary reason is debt.  More Millennials have student debt and those with debt have 50% higher outstanding balances. (Pew Research)
Housing – More Millennials live at home than any previous generation. Because they were hit with the Great Recession when they graduated college, many were forced to move back in with their parents and post-pone starting their own households. (Pew Research)
Figure 2:  Millennials live at home a lot longer than previous generations – especially those with lower income levels.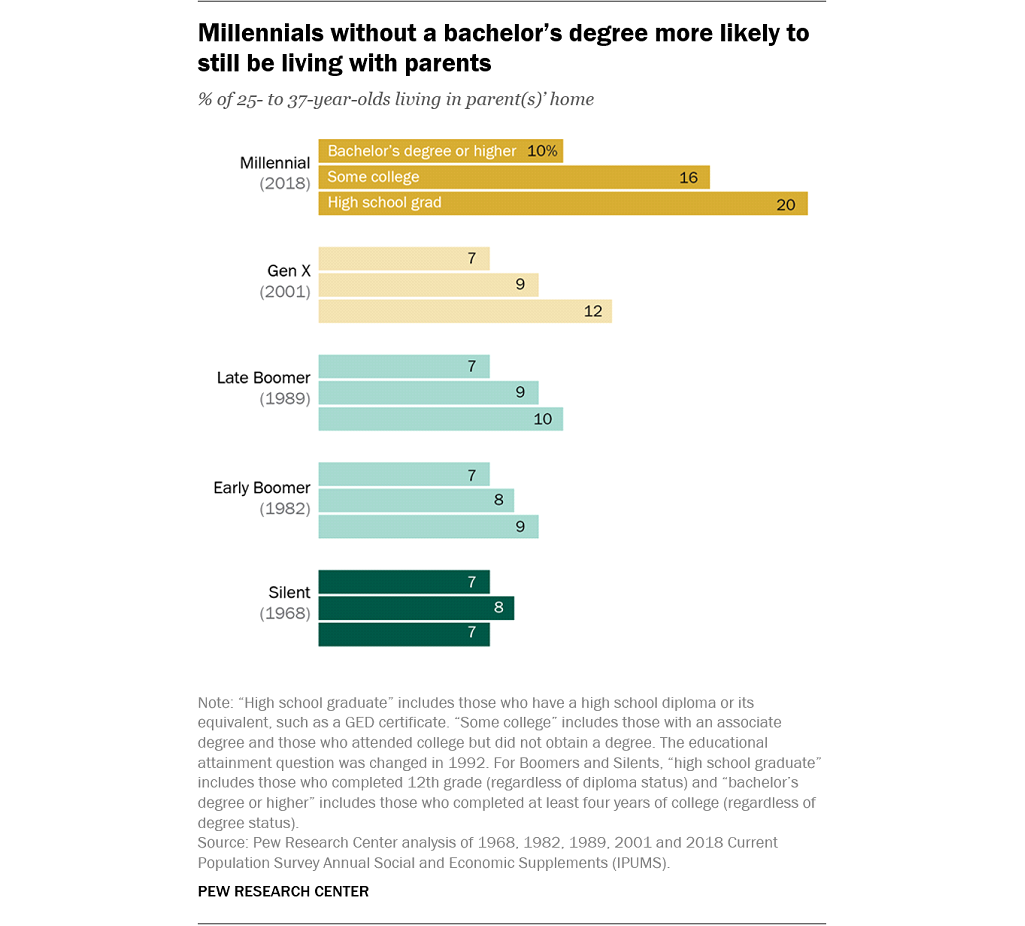 Work Ethic – In the past five years, 87% of Millennial workers have taken on management roles in comparison with 38% of Gen X and 19% of Baby Boomers. (EY) And 54% of Millennials want to start a business or have already started one. (Kauffman Foundation)
Device Ownership – As of February 2019, 93% of Millennials own a smartphone and 55% own a tablet. While Millennials lead previous generations in device ownership, all generations have made steady gains the past 8 years.
Mobile Purchasing – While all generations have embraced online shopping, Millennials prefer using their smartphones.  73% of Millennials recently reported shopping on their mobile phone in the past six months vs. 59% of Gen X'ers and 33% of Baby Boomers. (See Figure 3)
Figure 3: Millennials prefer to shop on their mobile phones vs. using their home computers.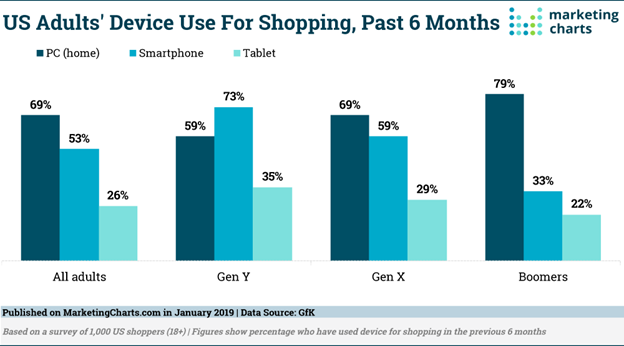 Attitudes Towards Advertising and Marketing
We have summarized Millennials demographics and attitudes towards Advertising and Marketing in the below Millennial Buyer's Profile (Note: a few statistics may be slightly different than those in this article – but still directionally accurate – as the profile was put together at the beginning of 2019).
Figure 4:  After, Inc.'s Buyer's Profile below captures all the relevant facts and preferences of the Millennial Buyer.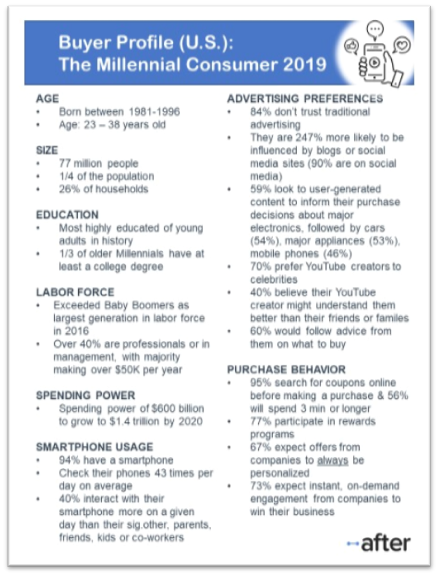 Having grown up in a digital-first world where the Internet is always a click away, it is not surprising that Millennials distrust traditional advertising.  They are used to watching on-demand television and doing their own research online, thus more informed than any other previous generation  They prefer to learn about brands through word of mouth (95% of Millennials believe friends are the most credible source of product information – Social Chorus), industry blogs, social media, and influencers. Whether watching a YouTuber "unbox" his latest electronic gadget or reading customer reviews about your product's extended warranty plan on your website – the majority of Millennials (84%) say that user-generated content has influenced the products and services they've chosen to buy. (Bazaarvoice)
What does all this mean for Warranty Marketers? 
First of all, it means that you may want to revisit your Warranty Marketing and Advertising budget going forward.  Millennials don't like to be talked to – or interrupted by an unwanted ad.  They want to learn about your Warranty products and services the old-fashioned way – because they work.  So, how can you get the word out in a subtle, non-obtrusive way?
Engage with Millennials throughout the buyer's journey with content.
Lyfe Marketing states that "quality content is essential in building trust with Millennial consumers".  It helps them understand their challenges and how your warranty services can solve them.  By consistently publishing content on your blog and on Warranty sites (like Warranty Week) – focusing on thought leadership – you can educate your audience and demonstrate your expertise at the same time.
Use social media to showcase customer stories and share your company values.
 As outlined above, Millennials are active on social media – and they are wary of traditional marketing.  They would rather hear "honest, authentic" stories from your customers.  Post a customer testimonial video or provide a case study on how your Warranty program helped a customer get her car fixed by one of the thousands of dealers in your network and make it to her best friend's wedding on time.
Use social media to showcase your company's personality and values.  Post pictures of your Warranty team serving meals at Thanksgiving or building a Habitat for Humanity home.  Community outreach is important to Millennials and they would rather purchase from a socially conscious company.
Social media is also a great place to drive two-way conversations.  Don't be worried if a customer shares a bad experience.  Use it as an opportunity to engage with that customer, tell them you'd like to speak with them offline to solve their issue or address their complaints.  It shows you care, and that goes a long way with Millennials.
Online customer reviews are a must.
Customer reviews are the new word-of-mouth marketing. Seven in 10 U.S. consumers seek out reviews and opinions before making a purchase and 81% of those are Millennials.  What's even more interesting is that 54% of customers will still buy products that have negative reviews. (Lyfe Marketing)  If your Warranty Program doesn't have customer reviews posted online – on your website or social media platforms – Millennials won't trust it.
To get customers to post positive reviews, just ask.
After each Warranty claim is completed successfully, reach out to that customer to post a review.  Make it easy for them by providing a link to your review page and even consider giving them an incentive.  Be sure to leave a short comment after each review, thanking them for their opinion.  This shows potential buyers that read your reviews that you value customer service and strive to provide a positive experience for each and every buyer.
When launching post-purchase warranty marketing campaigns, use a multi-channel approach.
This is not a new concept, but as we stated in a previous post on "Why Direct Mail is Still a Highly Effective Channel for Warranty Marketing", multi-channel marketing campaigns are important for three reasons:
It increases the chances that Millennials will see and interact with your message. If you send an email and it gets lost in a Millennial's already overflowing inbox, but you follow it up with a direct mail piece as well as a reminder on social media, your chances for closing the sale will be higher.
You can meet each prospect in his/her preferred channel. It can take time to learn your prospects' preferences – which messages resonate, which channels they prefer, which time of day works best. However, as you get to know Millennials preferences, your response rates and ROI will improve.
Ensure your brand message hits home. When utilizing a multi-channel marketing approach, always be simple and consistent. By maintaining your brand consistency, you will drive recall and credibility.
At After, Inc., we are big believers in utilizing direct mail as part of a Warranty Marketing campaign.  You may think – but that doesn't make sense, aren't Millennials only online?  The answer is yes and no.  Millennials are a digital-first generation and they conduct the majority of their buyers journey online.  But statistics show that direct mail response rates have been increasing and are now at their highest rates in five years (see Figure 4 below).  According to ANA/DMA, they were also the highest of any other media in 2018.
Figure 5: Direct mail response rates doubled in the past year.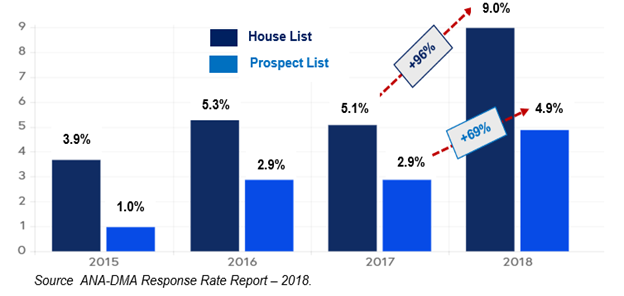 One of the primary reasons for the increased response rates is the drop in total mail volume during the past decade.  The USPS reported that it has declined 30% since 2006. (Statista)  Therefore, Millennials – like every other generation – are getting less mail and are more likely to read the mail that they do receive.
6. Segment your Warranty Marketing campaigns by age group and use relevant messaging for Millennials.
As outlined in the "Millennial Buyer's Profile" section, Millennials have tremendous buying power given their sheer numbers, but their median net worth is lower.  Appeal to their sense of value and show how your Warranty Program can save them money.  Also, include a testimonial or two and provide a link to your online reviews page.  Millennials trust customer stories more than brand speak, so be sure to include user-generated content in your messaging.
Conclusion
We hope this overview on "Warranty Marketing and Millennials" was educational and informative.  After, Inc. has been one of the leading providers of Warranty Marketing to manufacturers across industries for over 15 years, and we continue to incorporate the latest research and analytical methodologies into our marketing programs to drive higher response rates, revenues and profits for our clients.
If you would like to learn more about our Warranty Marketing Services, please visit our website.  Click here to go directly to our Warranty Marketing solutions page.  If you are interested in discussing your Warranty Marketing needs with our team, please contact us at www.afterinc.com/contact/.  We look forward to hearing from you.
After, Inc. is a pioneer in the warranty business – providing analytics, marketing and program administration to warranty organizations across a wide range of industries. Founded in 2005, After has 15 years of experience delivering innovative warranty offerings to manufacturing clients.  After, Inc. partners with some of the world's top brands to help transform their warranty businesses, driving customer satisfaction post-purchase, higher product reliability, deeper brand equity and additional revenue/profit opportunities.  Headquartered in Norwalk, Connecticut, and with offices in New York City, After, Inc. is part of the EPIC Insurance Group, an innovative retail property and casualty and employee benefits insurance brokerage and consulting firm with 1,300 employees across the United States.