Four Reasons Why You Should Offer Protection Plans to your Customers
In our previous blog, we discussed how protection plans can be an e-tailer's secret weapon to differentiate your brand.  But that's just one way protection plans can benefit your business. Protection plans can also increase average cart value, and drive customer trust and loyalty.
Let's discuss four reasons why you should be offering protection plans.
1. Your customers want them.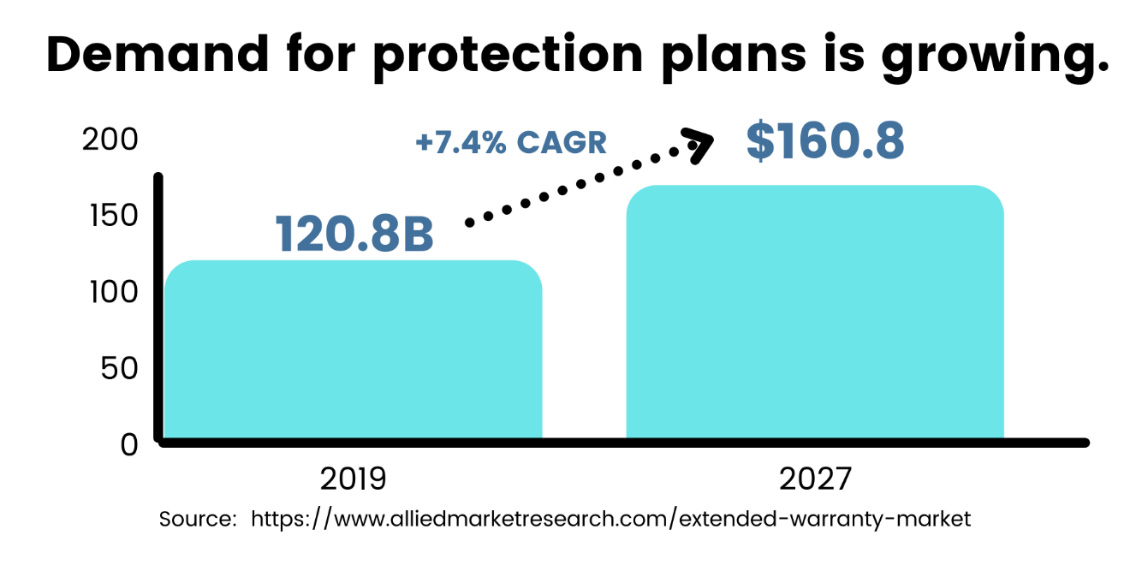 The global market for product protection is growing. Valued at $120.79 billion in 2019, it is projected to reach $169.82 billion in 2027 – a compound annual growth rate (CAGR) of 7.4%.  What does this mean?  It means that more e-tailers are seeing the benefits of protection plans – and more consumers are purchasing them across industries and geographies.
2. Product protection provides peace of mind, especially when prices are rising.
The primary reason consumers purchase product protection is because it provides peace of mind.  It gives them confidence that should anything happen to the product they just purchased, it will be covered.  The most inclusive protection plans offer "accidental damage from handling" (ADH) – e.g. drops and spills – which is not covered under limited warranties or return policies.
Product protection becomes even more important to consumers in high inflation environments.  With skyrocketing energy prices, we are currently facing the highest inflation rates in the U.S. since 1982.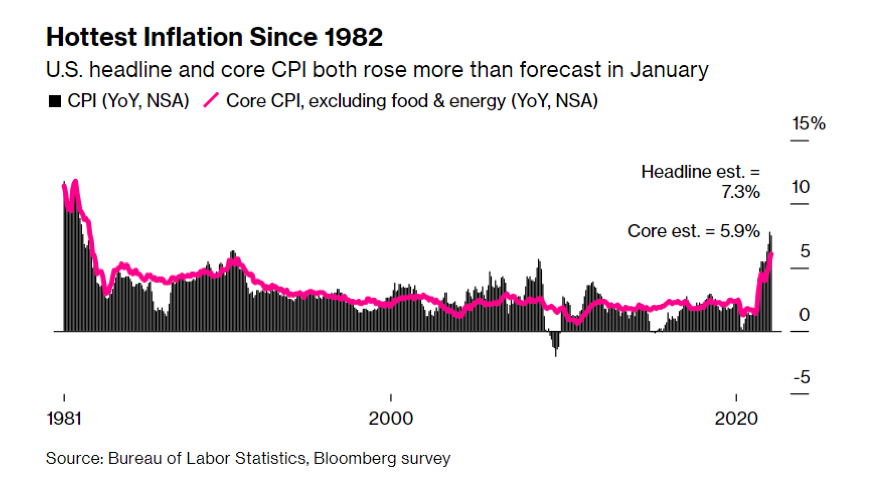 According to CNBC, prices will continue to rise for consumer goods in 2022.  The categories that will be most affected include gas, housing, food/groceries, computers and electronics, furniture, cars, clothing, heating costs, healthcare and dining out.  Rising costs and fears over inflation will make consumers more thoughtful about their purchases. And with higher prices comes an added desire to make sure the products they purchased will be protected.
3. Protection plans save your customers time, money, and stress.
The third reason why you should offer protection plans comes from the benefits they provide to both you and your customers.  It's difficult to predict what will happen after a product is purchased. With daily use, a product could break down or wear out sooner than expected.  For example, a fitness fanatic might use his/her treadmill every day causing a higher likelihood for repair.  Similarly, customers might use their snow blowers more often during an exceptionally cold winter, or lawn mowers in the summer. Repairs or replacements can be costly and not covered by the manufacturer's warranty or retailer's return policy.  Or – perhaps you have experienced this – your product stops working RIGHT AFTER the manufacturer's warranty ends or the return policy term is over.
Rather than having to pay for these repairs or replacements, product protection can save your customers time, money, and stress.
Product protection also eliminates the need to find a qualified technician or repair shop.  Instead of being without their product for what could take weeks, customers can just call the phone number or click "file a claim" on your website.  
Protection plans like After Plan powered by QuickCover® give your customers confidence that unforeseen accidents and malfunctions will be covered.   The result is a positive experience for your customers throughout their product lifecycle – from the time they purchase your product to if/when they need to file a claim.  And the best part?  You don't handle any of the administration or liability so you can focus on selling more products!    
4. Product protection allows you to turn a negative experience into a positive one – something that drives brand trust and loyalty.
Did you know that 86% of buyers are willing to pay more for their products if they receive a great customer experience – up to 16% more!  Customer experience has overtaken product features and pricing as the key brand differentiator in 2022.  
You can't think of each stage in the post-sale product lifecycle in a silo.  For example, you may have a fast and easy checkout process, a great onboarding process, and provide helpful, relevant tips and tricks to help your customers get the most out of your product.  But what happens if they drop the product and it breaks, or they spill their coffee on it, and it's ruined? 
Your customers' experiences will be different if they purchased protection vs. not.  
Shoppers are more likely to make a repeat purchase or recommend a brand to a friend after a positive claims experience. On the flip side, if they don't purchase protection, the experience can be a poor one.  They may have to purchase an entirely new product at full price (or perhaps you give them a small discount).  And you could risk negative reviews.
Brand loyalty should be your goal.  Do you want the opportunity to turn a negative product experience into a positive one?  Of course you do – so offer product protection to your customers.
Contact us today to learn more about how our After Plan powered by QuickCover can help you become your customers' favorite brand.